My name is Stuart Turnbull and I'm delighted to be sharing my story with you as a guest writer on Edson's blog.
I started working online 6 years ago when I discovered eBay. Like Edson, at first I used it to shift the junk from my house but I soon realized that it presented an opportunity to achieve my long held ambition of building my own business and quitting my day job.Over the next few years I developed a very profitable niche business that involved buying old books, removing and matting/mounting the book plates and listing them for sale to eBay's hordes of hungry collectors.
In 2008 I wrote an eBook describing my eBay business methods and I began building a list of subscribers who are also interested in using eBay and the internet to free themselves of the daily grind.
Fast forward to today and I have achieved my ambition! I now enjoy multiple online income streams and today my aim is to provide you with a little inspiration to help you achieve the same!
I spend just a few hours of my time per week on my eBay business and I regularly achieve results like this – (click on the images to enlarge them)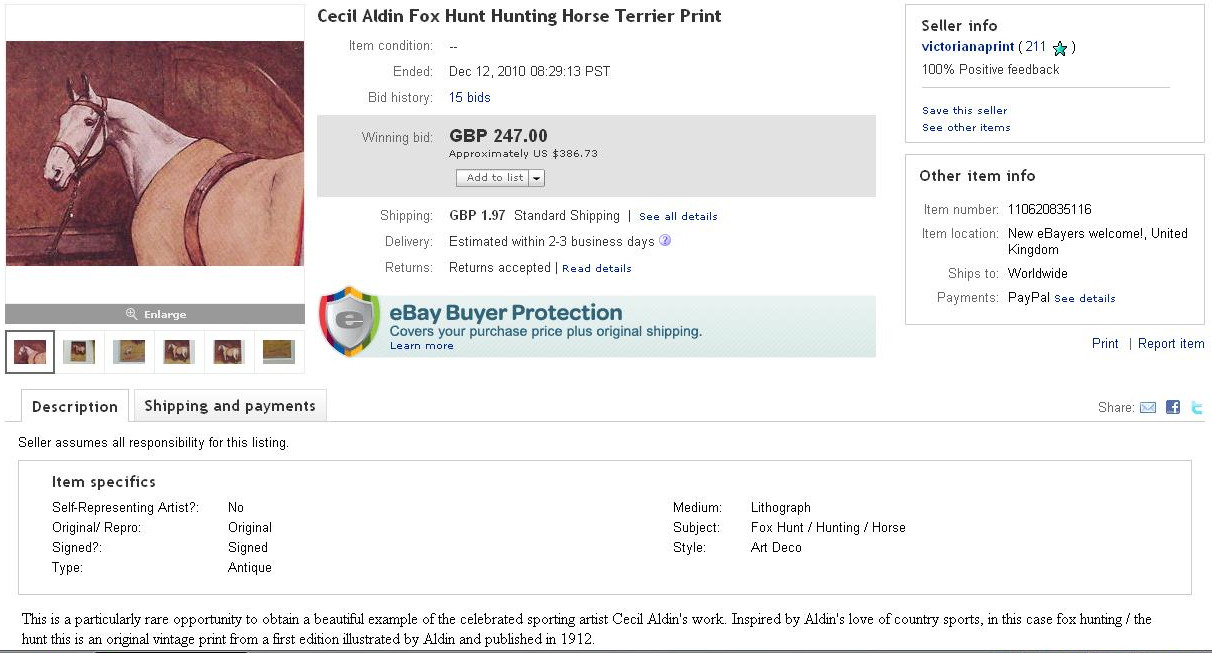 This particular print is one of 16 similar prints contained in a book that was published in 1912.
The possibilities to make huge profits in this business are endless, for example I could have another copy of this very same book delivered to my address within the next few days.
There is a website that is currently listing this exact book (same 1912 edition) for sale at $77.62 plus postage.

That's right, 16 similarly sought after book plates for $77.62 plus postage! (that's around $5 per plate!)  But that's not the whole story, there is also a modern edition of this book containing the same illustrations available at the same website for $17.77 plus postage.
If I can sell one book plate from the 1912 edition for $386.73 I'm sure I could  sell the modern reprints for $20 or $30 a piece to collectors who can't afford the first editions and I can obtain an unlimited supply of the modern edition!
Another twist is that the 1912 first edition is in the public domain so I am free to make as many copies of these popular illustrations as I want and sell them any way I choose and keep 100% of the proceeds (this way I only ever need to buy one copy of the book)
I could mount/mat the images from the new book or print and mount/mat the scanned images from the 1912 book and sell them as a limited edition collection of 16.
I could include more images from other public domain books in the same niche, compile a compilation CD and list it on eBay and automate the whole production and fulfillment process using kunaki.com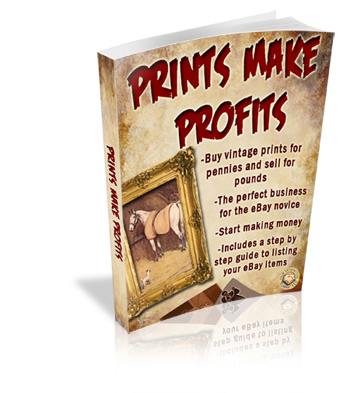 Why restrict my market to eBay? Why not sell on Amazon as well?
As I said, the possibilities are endless!
By the way, if you'd like to find out which website I use to source my prints and get a fully illustrated step by step guide to setting up your own vintage print biz check out my eBook "Prints Make Profits"
Click the book cover (to the left) NOW! for your exclusive discount as a subscriber to Edson's blog.
I'd like to wish you the best of luck with your own online ventures in 2011!
Do visit me at stuart-turnbull.com where I share more great money making ideas that you can use.