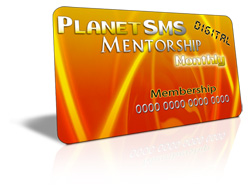 John Thornhill from Planet SMS Mentorship Monthly Says
"The Break Through you've been waiting to catapult you and you're business to the next level."
John Thornhill is an ebay power, Internet marketer, and ebay author. I first heard of John about a year ago when I purchased his ninty day powerseller challenge. Not only did I accomplish this status within ninety days but I also went o create a few products on my own. I knew that I had found someone that was willing to give their time to help me succeed online.
So when John created PlanetSMS Mentorship Monthly, I was the first in line. I could not wait to watch, read, and learn what john had to teach me. Now a year later and John's Planetsms Mentorship monthly is a growing success.
although the price of this membership was only $10.00 a month. I asked John if I could create a video showing the inside of the membership – of course keeping secret what john has to say and the special offers, here is your inside peak!
[youtube:http://www.youtube.com/watch?v=NaP-lcMVkNE]
This site is designated to teach us how to become successful Internet marketers by molding Johns success.
Digital news letter full of money making ideas each month

Audio Video training

Email help from John

Almost Guaranteed income

And Much More!
My recommendation would be to join PlanetSMS Mentorship Monthly and try it out. with the money back guarantee the small $10 risk is removed. I believe new and intermediate marketers will find value and benefit in the first issue. And surprisingly – even many of the more experienced marketers are not using this particular strategy!
So I wouldn't rule it out assuming the low price would mean there was nothing a successful marketer couldn't learn.
Do come back and post your comments if you found this review useful.
Edson Buchanan